Hello everyone,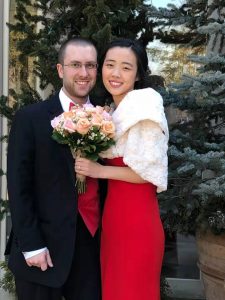 First of all, a happy 3rd anniversary to my lovely wife and I, on this auspicious TWOsday. 2-22-22! (It is 1-22 in the lunar calendar.)
Not a great day to celebrate with all the rain and cold, being so busy, treatment, and me not being able to eat much. But we will make it up on a sunnier day!
Radiation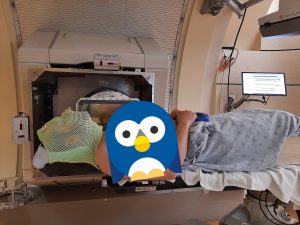 Last week I finally started radiation treatments. So far, everything has gone quite smoothly. The process is very efficient; I probably spend more time driving back and forth than I do at the treatment center.
I mentioned I had to wear this mask that immobilizes my head. Well here's a picture of me on the table ready to be zapped!
This machine isn't the same machine as I had pictured before. The only difference is that this one only goes up 60 degrees on one side, instead of being able to go basically all directions like the other one can.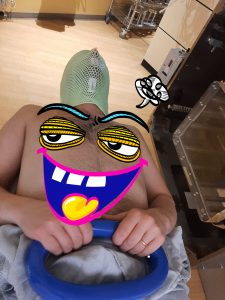 First they blast me on one side, then turn me around and blast me on the other. Before each time, they take some kind of x-rays to see that I am in the same alignment every time. They compare the x-rays to the initial CT scan I had done at my first appointment. Even things like the placement of my arms has to be the same each time.
Each blast takes maybe 2 or 3 minutes. It takes more time to get set up and adjusted. Total I am there probably 45 minutes from getting called back to leaving.
Completely painless, besides being uncomfortable on that metal tray and having my head strapped down.
Side Effects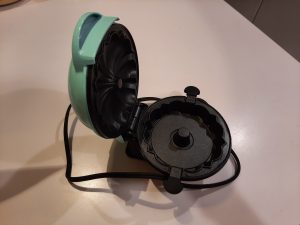 I started to feel some side-effects this past weekend. I took off Saturday from work preemptively, just in case I wouldn't be able to sing. Sunday went ok, but I started to struggle towards the end. My throat (esophagus) is definitely becoming irritated and inflamed. I have the same tightness feeling that I did before I started chemo. It isn't necessarily hard to sing, but it gets uncomfortable, and I start to produce a lot of phlegm. Now I am having more trouble eating, which was also to be expected. I will eventually be on a mostly liquid or very soft diet in the coming days. Even bread is not so fun to swallow. Though I couldn't resist having two mini-bundt cakes that I made today with the mini-bundt-maker that Luyang got me as a present for our anniversary!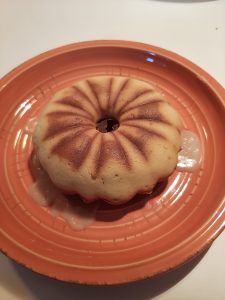 I also start to feel fatigued, as expected. Not too bad, but I am feeling the need to nap a lot again, whereas I was really not feeling the need to as much in the past few weeks. Well, last week was really busy, besides treatment, so I suppose the combination of getting back to normal life on top of treatment is starting to add up.
I'm supposed to expect some minor burning on my skin in the treatment area, however I have yet to really experience this. Perhaps it is slightly noticeable visually, but I certainly don't feel burned. Not yet anyway!
Being More Healthy
Speaking of skin problems – in a previous post I mentioned some topics I was hoping to write about. For the past many years, I have always been getting some patches of eczema in various places. This year is the first year in quite some time that I have not had any traces of eczema whatsoever. Maybe it is some fundamental change in my body from chemo, but I attribute this to changing soap. Instead of using the cheap, corporate brand, I decided to try some handmade soaps. They are still scented, but don't have all the filler chemicals in them. I didn't buy them with the intention or knowledge that they may help my eczema, but low and behold they did!
I also changed deodorant. After using the same old aluminum-laced stuff I've been using for literally all my adult life, I also made the switch to aluminum-free, handmade stuff. Really no difference in "performance", but I certainly feel better about myself. Not just physically, but mentally knowing that I am supporting small businesses and individuals instead of Big Body Wash.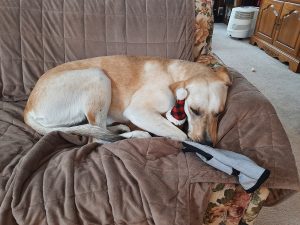 That was an easy switch. But what else can I do to improve my health going forward? What I eat! Well cutting down on refined sugar would be one – that's going to be difficult! Easier for me right now is cutting down on oils. Generally I feel terrible anymore after eating greasy foods. During chemo I was very sensitive to greasy foods. That sensitivity hasn't really gone away. I still get pretty nauseous.  While that stinks, it really is a good thing. I have instinctively avoided having too much greasy food.
Until next time. Thank you for reading!